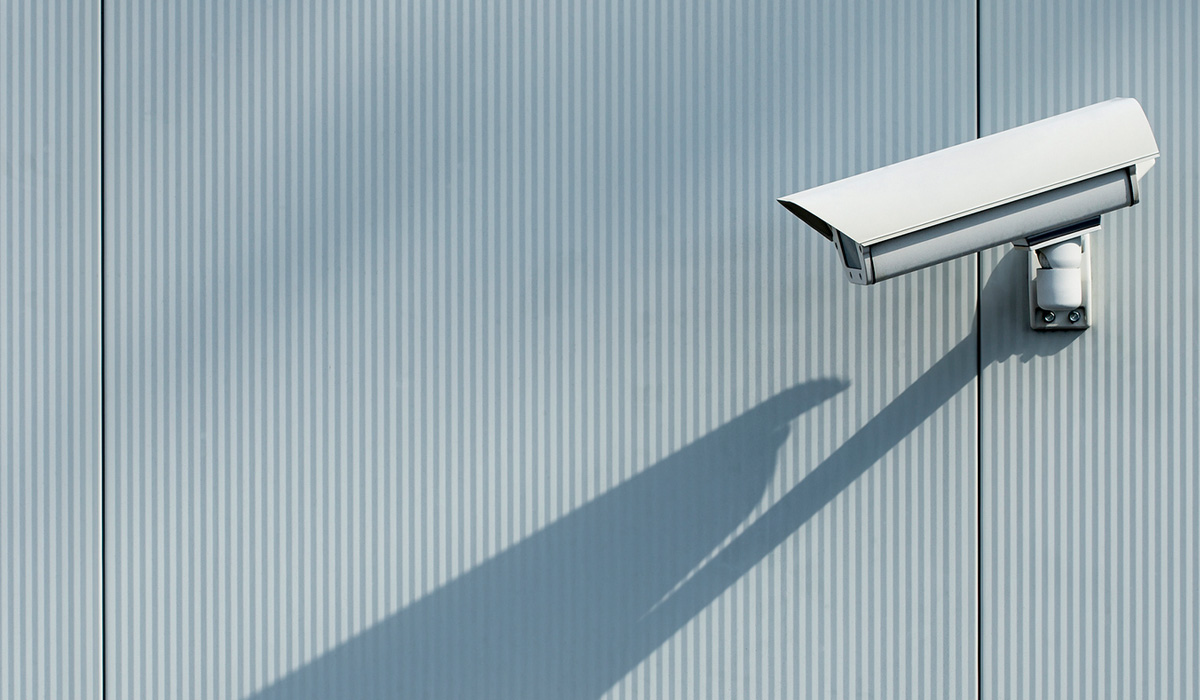 Having a video surveillance system in place is one of the most reliable security measures nowadays. It provides valuable knowledge and allows to perform better in tasks best suited for machines, such as permanent monitoring or full-scale searches.
In this article, we will explain in a simple way what a video surveillance system is and its basic operation.
Table of contents
What is a video surveillance system?
Video surveillance involves observing a scene or scenes and looking for specific behaviors that are improper or that may indicate the emergence or existence of improper behavior. And when it is powered with autonomous artificial intelligence, it can reach a whole new level.

These systems can be used both inside and outside of a structure or property. They can function 24 hours a day, be configured to record just when motion is detected, or be programmed to record at specified periods of the day.
There are four main components in a video surveillance system:
- A camera network: Network cameras are the digital successors of the commonly used analog closed-circuit television (CCTV) systems, but instead of a specialized network, they use the local IP network, which also has Internet access.
- Monitors or display units: A computing device that enables user input and output to a display. It is responsible for graphically displaying everything recorded by the camera network.
- VMS: It serves as a front-end interface for security system operators. It's the most visible part of a security and surveillance system.
- Video analytics: Video analytics or intelligent video analytics is the technology capable of generating knowledge from video transmissions, streams, or archives to detect or inform people about specific scenarios or situations.
Learn more in our guide to video analytics here.
4 COMPONENTS OF A VIDEO SURVEILLANCE SYSTEM

How a video surveillance system works
Before we begin any preparations, we must evaluate all of the aspects that are required to construct an effective video surveillance system.
First and foremost, the following points must be addressed:
Make a list of all the materials you'll require.
Consider the sort of connection you'll use.
Make sure that each of your cameras has a strategic position.
Once you cover all these points, you will have to evaluate how to use the footage and knowledge you will get from your video surveillance system.
However, this option is not always the most effective, mainly because the human eye can make mistakes. For these cases, a video analytics system that maximizes the power of your surveillance network is recommended.
Learn more about how our suite of products helps you achieve your intelligent video surveillance goals. Just click here.
Today it is also possible to view the system's transmission over a private network, as most of today's security cameras are Internet Protocol digital cameras. While still viewable on an official display unit, computers and mobile devices can also access the system's transmission. In addition, some systems and cameras can wait to detect motion before being activated.
3 Types of cameras for video surveillance
There is an overwhelming variety of cameras that can be used for video surveillance systems. Here are the three most popular categories:
1.

Analog
Analog cameras are older models with a poorer resolution that need coaxial cable connections to the DVR for each camera and separate wired connections for power. Their field of view is often narrower than that of IP/digital cameras. Finally, enlarging an image will cause the recorded film to distort even more. However, unlike IP/Digital cameras, these cameras are less expensive and do not consume any network traffic.
2. IP / Digital
Digital cameras with far greater resolution and clarity than analog cameras are known as Internet Protocol cameras. They employ a power over ethernet switch to link to an NVR and only have one cable to connect to both the NVR and the power supply. The disadvantages of digital IP cameras are that they are more expensive, use more bandwidth on your network to send images, and demand more storage.
Learn all about IP cameras, how they work and how AI elevates them in our article here.
3. Specialized camera options
There's a wide variety of cameras designed for specific purposes for various industries, like internal/external dome cameras, PTZ pan/tilt/zoom Cameras, discreet Cameras, bullet cameras, Thermal Image / Infrared Cameras, NPR/LPR Cameras, and High-Definition Cameras, among others.
3 TYPES OF CAMERAS FOR VIDEO SURVEILLANCE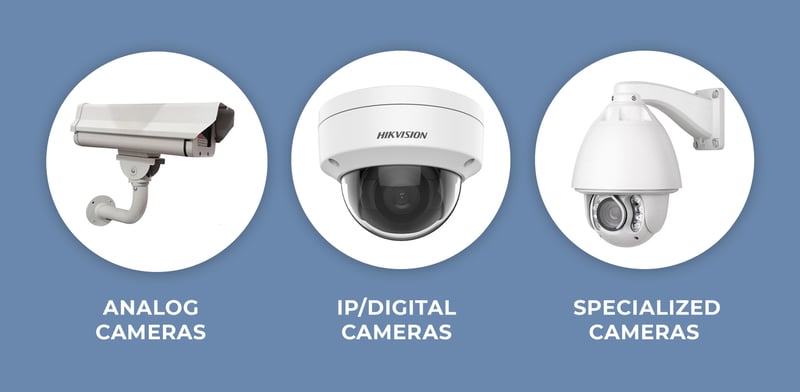 Common Video Surveillance Applications
In a present that is constantly changing, video surveillance has been able to meet the many needs of our industries and security challenges.
We find applications for crime monitoring, industrial activity control, and public safety, among others.
Progress in these fields has been further enhanced by the replacement of analog cameras -which transmit electrical frequencies over a defined range and have a lower resolution- with Internet Protocol (IP) cameras.
As the name implies, these cameras work through the Internet Protocol, which means they use software that connects directly to the internet and does not require a computer to broadcast online. Also, they have a wider range of vision and don't need to be close to a Networking Video Recorder (NVR) to have quality images; it is even possible to amplify these very images without affecting their quality. Nowadays, one can access the transmission of an IP camera from their mobile devices too.

Some specific applications that have benefited from these advances in video surveillance components are:
- Facility protection: Focused on monitoring the perimeter of certain buildings.

- Remote video monitoring: Commonly used to protect properties and businesses from burglary, robbery, or internal fraud. Video surveillance cameras intended for this activity can also feature facial recognition, intelligent tracking that follows people or vehicles, and immediate alerts. In some cases, placing visible cameras is likely to stop acts of vandalism, since several criminals are driven away by the possibility of being identified on video. We find a success story related to this in a U.S. train platform, where the open use of video cameras significantly reduced criminal activity, as thieves began to fear that their behavior would be recorded.

- Parking lots monitoring: Highly effective for monitoring vehicle theft or damage, as well as stopping criminal actions thanks to facial recognition and both smart and visible cameras.

- Operations monitoring: Records day-to-day processes in factories and plants, giving high priority to the safety of employees and assets. With this, companies fulfill important points in their security plans, comply with safety regulations, and warn personnel in advance of risks that may be both operational and external (hostile or terrorist acts).

- Public safety surveillance: Constantly applied in streets, neighborhoods, and public spaces. Two significant branches are video surveillance of events -for crowd control- and traffic monitoring, which seeks to improve traffic flow and prevent accidents.
There are different lenses depending on the application and purpose of video surveillance systems. For example, varifocal and zoom lenses extend the field of view, while 360-degree panoramic lenses show the full view of a scene.
5 VIDEO SURVEILLANCE APPLICATIONS

3 Innovative video surveillance companies
As with every protection method, video surveillance and its applications are supplied by specialized companies that seek to offer both state-of-the-art technology and ease of use in their products. Here are some innovative video surveillance companies you must know.


Hosted by Motorola Solutions, Avigilon offers video analytics technology with artificial intelligence that analyzes, stores, and transfers images. A special feature is that customers can integrate these images into Avigilon's intelligent system and also into third-party systems, as well as use pattern-based algorithms. Among its products are the Avigilon H4, a thermal camera that offers perimeter protection through self-learning video analytics, and motion and zoom cameras that can cover large areas.


Based in South Korea, Hanwha Security has successfully positioned its video surveillance solutions in sectors as diverse as transportation, retail, banking, education, and airports. These surveillance products range from IP cameras to optical design-based software and storage devices. Its IP cameras include the Wisenet AI: a wide variety of products for indoors or outdoors, also capable of monitoring body temperature.


Algotive designs its intelligent systems for two key areas: public safety and banking. On the one hand, its solutions consist of permanent and simultaneous monitoring -with the latest generation of artificial intelligence- that selects significant transmissions for its clients and detects suspicious criminal behavior in real-time.
On the other hand, the distinctive elements of its technology are that

it performs its own tasks, anticipates problems, and collaborates closely with the organization's personnel.
Its signature products are vehicleDRX, for vehicle tracking, and bankingDRX, an intelligent monitoring system for ATMs and banking facilities that performs detailed behavioral analysis and sends instant alerts if necessary.
The future of video surveillance
We can expect that video surveillance will continue to evolve based on the needs of different sectors and that it will keep innovating its proposals. While this activity offers a world of possibilities depending on the client, we believe that there is a definite scenario for the various applications and technologies of video surveillance: IP cameras, smart lenses, and, above all, artificial intelligence - with features such as facial recognition and behavioral analysis - are here to stay.
We will find these innovations in:
Public health: Video surveillance isn't only a handy way to increase security in hospitals but also to review protocols and give 24-hour care to some patients, for example in psychiatric areas.

Process optimization: Thermal cameras are ideal for monitoring entire workflows and detecting potential risks to the operation, such as machinery overheating.

Object tracking: In the security field, object tracking will always be a must in need of the latest equipment. The fusion between video surveillance and artificial intelligence is able to offer technologies such as the aforementioned vehicleDRX, which performs permanent and large-scale monitoring of suspicious vehicles, as well as chronological analysis and intelligent searches based on car characteristics, such as speed and direction: ideal support for state governments or security agencies.
Understand the whole scope of how AI has impacted surveillance in our full article here.

If you want to learn more about our video surveillance solutions for public safety, discover vehicleDRX, Algotive's autonomous AI application for law enforcement.

And learn more about the uses of artificial intelligence and one of its most famous subfields: Machine Learning. Read our article on 5 examples of Machine Learning that you use every day and you didn't know about.