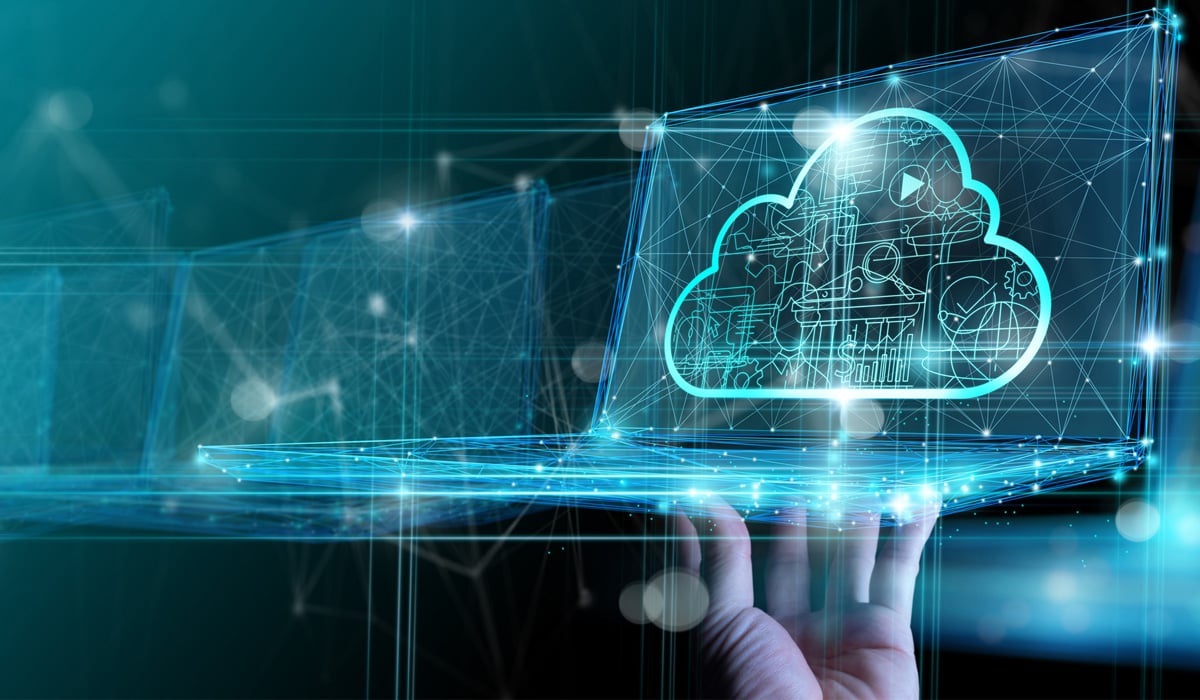 Cloud Computing, also known as "the cloud," is a technology that allows the use of different services such as file storage, applications, or the connection of devices, all without taking up space on our computer's hard drive.
Cloud technology offers services through the connectivity and large scale of the Internet. Cloud computing democratizes access to world-class software resources, as it is a software application that serves diverse customers. Multi-location differentiates cloud computing from simple outsourcing and older application service provider models.
This article will explain cloud computing, how it works, and its current importance and impact worldwide.
Tabla de contenidos
Cloud computing:
what is it and what is the current state of cloud technology?
Cloud computing is the solution to many critical organizational problems today, thanks to its agility, flexibility, and connectivity.
Nowadays, solving the needs of users and companies with the right technology and information is not enough. It is also necessary that these solutions are easy to access and secure. That's why services like cloud computing are here to stay.
Simply put, cloud computing is

a technology that stores files and connects different devices, servers, and applications

through the Internet and in the same virtual space.
The most immediate advantage -it offers many more, which we will address later- is that this information gathering does not require using our computer's hard disk. This means that the most recent developments in cloud computing enable us to store files through services such as OneDrive, Google Drive, or Dropbox; back up images, videos, and music without physical support; and access our email accounts from any computer. In the case of organizations, what we have is an increasingly common option when it comes to saving costs and speeding up processes while protecting data privacy.
How does cloud computing work?
Before diving deeper into the features of cloud computing, let's take a broad look at how it works, based mainly on three key elements:

Front end: this is generally an interface from which users make requests and interact with cloud computing services. It includes the source through which the cloud is accessed. This can be an Internet server or a specific application.

Back end: the space where the storage systems and servers that make up the cloud are located.
Middleware: a central server that channels user requests from the front end to the cloud.
Cloud Computing Services
In turn, we find different cloud computing services, mainly encompassed in three categories or models:
Infrastructure as a service (IasA)
With this model, a cloud provider delivers IT infrastructure -storage, operating systems, servers, etc. - in the form of an on-demand service.
Platform as a service (PaaS)
In this case, users can use all cloud services in the same way as they would with a SaaS model and, at the same time, create customized applications. Here the provider is also responsible for maintaining the service. The difference is that it is a platform for creating software provided over the Internet.
Software as a service (SaaS)
Through this model cloud providers offer a software application that clients access via a browser or program interface. Suppliers manage both the application and its structure.
Advantages of Cloud Computing
No matter which model you choose for your personal or business needs, cloud computing offers multiple benefits for all user profiles. Some of them are:
Multi-location
You only need an Internet connection to access your files and work on them from anywhere. Thanks to the communication established between the back end, front end, and all the elements of the cloud, it is possible to log in from any device and use any cloud service installed on it.
Easy access
This technology distributes servers, networks, and programs through very intuitive pathways, similar to the ones we use to get to the files on our computers. In addition, access to these huge amounts of digital resources happens in a matter of minutes and wherever you are, even if one of your devices has been damaged.
Global scale
Regardless of geographic location, people can communicate in real-time through different cloud functions such as projections or shared documents.
Security
All cloud services have controls and security measures to protect people's data from external threats. Among the most common features are antivirus systems, passwords, and automatic backups designed by specialists in the area.
Efficiency
Since providers typically maintain the cloud infrastructure, users -mostly companies in this case- can spend their time on other business goals. In addition, most of these IT services belong to data centers with state-of-the-art hardware and constant updates, which ensures greater productivity and efficiency for work projects.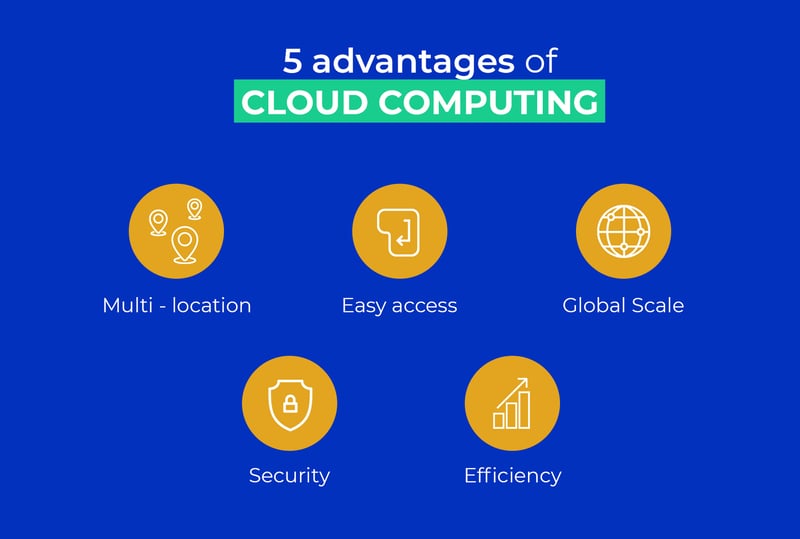 Types of cloud computing
Generally speaking, there are four types of clouds or, in other words, four different ways of using cloud services. Their particular characteristics provide different solutions to specific needs. It is important to know them in order to choose the ideal option for you or your organization.
Private cloud
These cloud computing resources are used exclusively by a single company, without the possibility of opening them to the public, which means that the network they use is also private. This type of cloud can be located in an organization's own local data center or at an external provider's repository.
Public cloud
Multiple companies use this cloud technology simultaneously but through separate accounts and access. Therefore, the owner of this option is a supplier that offers storage, software, hardware, and so on through a web browser and on a fee basis. Of course, such a vendor is responsible for managing and maintaining absolutely every aspect of this service. Some well-known examples are Alibaba Cloud, Amazon Web Services (AWS), Google Cloud, IBM Cloud, and Microsoft Azure, among others.
Hybrid cloud
As the name implies, this third sample merges private and public cloud infrastructures through standardized technology that allows them to exchange applications and data, while remaining independent entities. This is an attractive alternative for those who wish to work flexibly and optimize their systems' security.
Community cloud
This peculiar option is used when different companies have a common goal or problem, so they unite their resources in a pool to solve this: it is simple and agile to use in large multidisciplinary and/or international projects.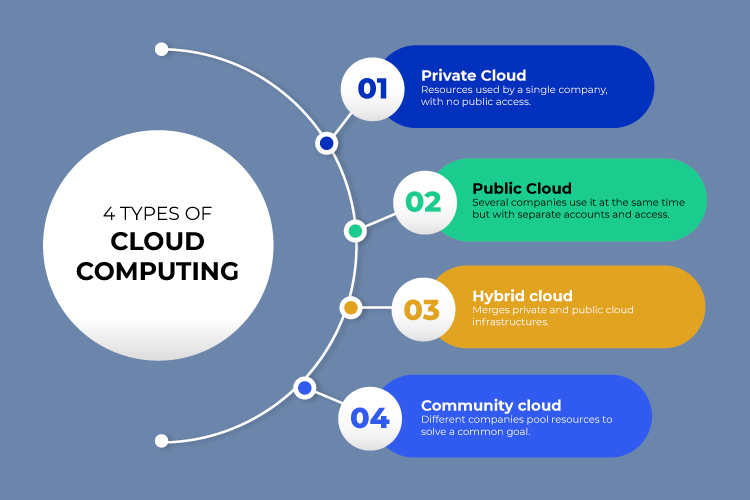 Applications of cloud computing
The multiple advantages offered by cloud computing are leading to a growing number of applications. These range from personal use - saving and editing documents, listening to music, or watching videos - to key processes for increasing company sales and measures that reinforce the security of homes and businesses. Here are some of the most popular uses:
Data analysis
Cloud computing has systems and services, such as artificial intelligence and machine learning, capable of processing a large amount of data and providing valuable information about it in a short time -for example, data patterns on web pages or social networks to better understand customers. On top of that, it unifies its findings for all connected equipment. This application is typically associated with marketing, business intelligence, and activities such as scientific research.
If you want to know how our Autonomous Artificial Intelligence works, we invite you to read our complete guide here.
Apps development
App developers have access to infrastructure and tools that allow them to create and test their products in a quick time frame, ensuring that all members of a team collaborate simultaneously and on the latest versions. Services such as Google App Engine and Amazon SimpleDB are examples of these technologies.
Virtual desktops
Cloud computing is also capable of hosting virtual desktops with all the programs that corporate employees need for remote work, a modality that has become increasingly common since the Covid-19 pandemic. Among the leading desktop, solutions are V2 Cloud, Amazon WorkSpaces and Microsoft Azure.
Databases
As we have already seen, a cloud service is more than capable of containing large volumes of data always backed up by security copies. The major benefit of this is that we avoid overloading databases dependent on a hard disk.
Video surveillance archiving
Whatever their line of business, today's organizations face the common challenge of protecting their assets from crime with the best measures and, at the same time, reducing their costs. As a result, it is increasingly common for them to migrate their cameras, recordings, databases, and other elements that make up their security systems to cloud-based software. In this way, it is possible to simultaneously monitor all the video surveillance cameras you want through different devices -cell phones, computers, tablets- and broadcast fully encrypted images.
The cost of unifying the video surveillance of companies in this way is much lower than it would be to maintain separate equipment. Of course, the practicality of this is also guaranteed. In addition, it is possible to enhance the intelligence of cameras and other items through advances such as Artificial Intelligence.
Our public safety video surveillance software, vehicleDRX is an intelligent, cloud-based system to take full advantage of all its benefits. If you want to elevate your video surveillance operations, learn more about vehicleDRX here.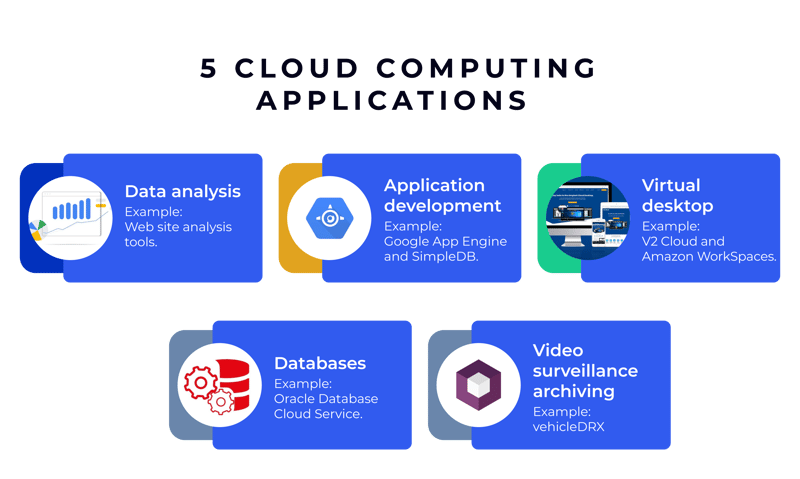 Cloud Computing and Artificial Intelligence
The alliance between cloud computing and Artificial Intelligence (AI) algorithms is promising and can benefit organizations in more than one area: sales, operations, security, and more.
In simple terms, this combination is based on integrating AI tools, such as machine learning, into the cloud. This combination, known as AI cloud, brings together AI hardware and software to deliver a Software as a Service (SaaS) model that, in a way, democratizes the use of AI by enabling more companies to access an otherwise expensive type of technology. Among the most immediate uses of this fusion is the storage -which, as we have already seen, does not take up the space of any hard disk- and the use of machine learning algorithms to analyze data and make predictions. Another essential application of Artificial Intelligence in the cloud is the cognitive cloud, which consists of resorting to computer models that emulate human thought processes in situations that require somewhat complex decisions. This is especially useful for data analysis or to help video surveillance cameras detect suspicious behavior. Or as mentioned above, it can be part of a complete video surveillance system such as vehicleDRX.
By making accessible what until recently was only available for a few and simplifying the daily work of individuals and organizations, technological solutions such as cloud computing demonstrate that human needs remain the priority. Supporting this service with ever-improving advances, such as Artificial Intelligence, is a unique opportunity for people and institutions around the world to continue achieving their goals hand in hand with technology.
If you want to learn how cloud computing integrates with other applications to create intelligent systems that solve complex problems across multiple enterprises, read our article on intelligent systems here.