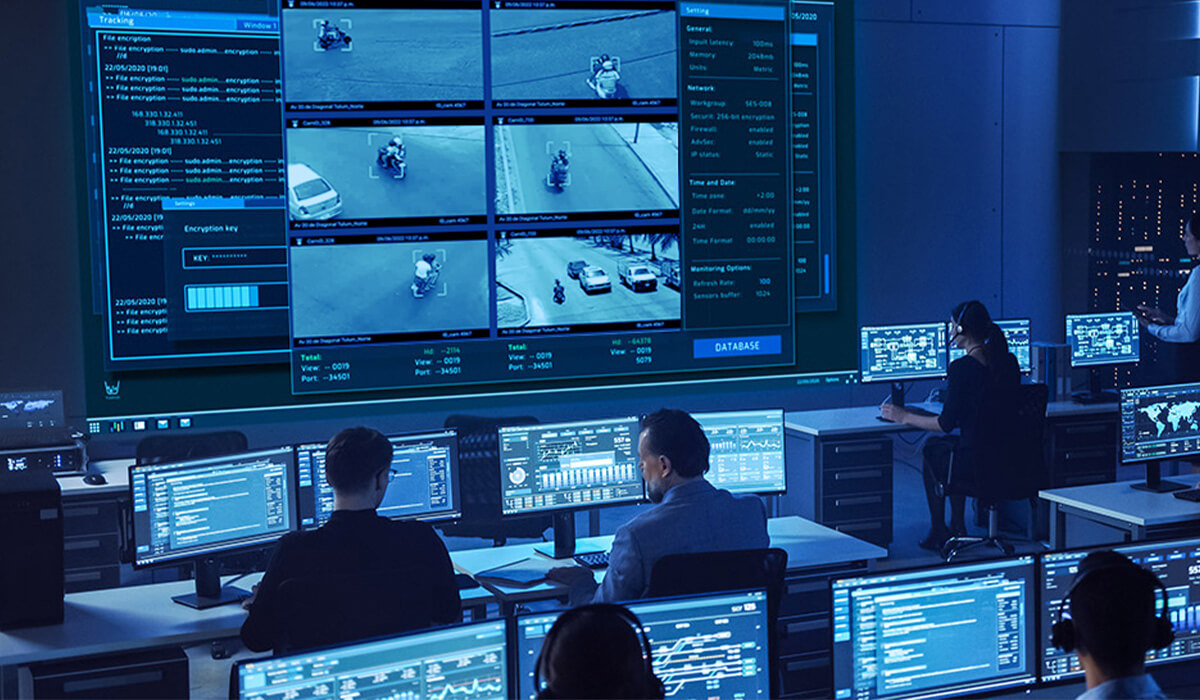 Currently, Mexico is facing a problem of insecurity, an issue that is of great importance and that mainly affects the peace and well-being of Mexicans. However, technological efforts in recent decades have changed the panorama for public security forces that combat this type of crime.
In this article we will review the magnitude of the insecurity problem in Mexico, the population's perception of security and how intelligent systems can help prevent and combat crime.
Table of contents:
INSECURITY

IN

MEXICO
According to the National Survey of Urban Public Security (ENSU) of INEGI, 26.3% of Mexican homes were victims of a crime. This is a commonly known issue in Mexican society, in which everyday activities might pose a danger for a quarter of the population. Furthermore, the ENSU estimates that 68.8% of the population on a national scale goes out of their homes at least once a day. Of those, more than half of them (63.7%) reported to have felt unsafe daily.
On that note, in 2021, there were 24,000 crime victims for every 100,000 citizens of the country, according to the National Survey of Victimization and Perception of Public Safety (ENVIPE). If the numbers are accurate, roughly one of every four citizens was a victim of some kind of crime during that year. This figure should ring alarms for governments and authorities throughout the country.
While the states with more crimes are the State of Mexico, Mexico City, Aguascalientes, Baja California, and Tabasco, according to the ENVIPE, crimes in Mexico are not endemic to a certain area, nor a certain population. They happen every day both in cities and in rural environments and their quantity and frequency tend to oversaturate the different Police forces, which many times have neither the numbers nor the means to deal with the different kinds of crime that plague the nation.
In general, the Mexican population has to deal and live with the worrying state of safety in the streets, roads, public places, and even their neighborhoods and homes every day. While some measures such as video surveillance or better public lighting have been taken by the government to try to protect the citizens of Mexico, crime levels have improved very little in the last two years.
PERCEPTION

OF

PUBLIC

SAFETY

IN

MEXICO
Taking all this into account, it should not come as a surprise that, during the last quarter of 2022, 64.2% of the total population of the country considered that the city they lived in was unsafe. These numbers are closely related to those of a study by the INEGI, which showed that, in 2021, 61.2% of the citizens over 18 years old (which is the legal age in Mexico) considered that the lack of safety is the most important problem for the country nowadays, followed closely by inflation (39.6%) and unemployment (32.1%).
The places in which people felt less safe were in ATMs, in public transportation, in the bank, on the streets, and on public highways. All of these are places commonly used by citizens every single day.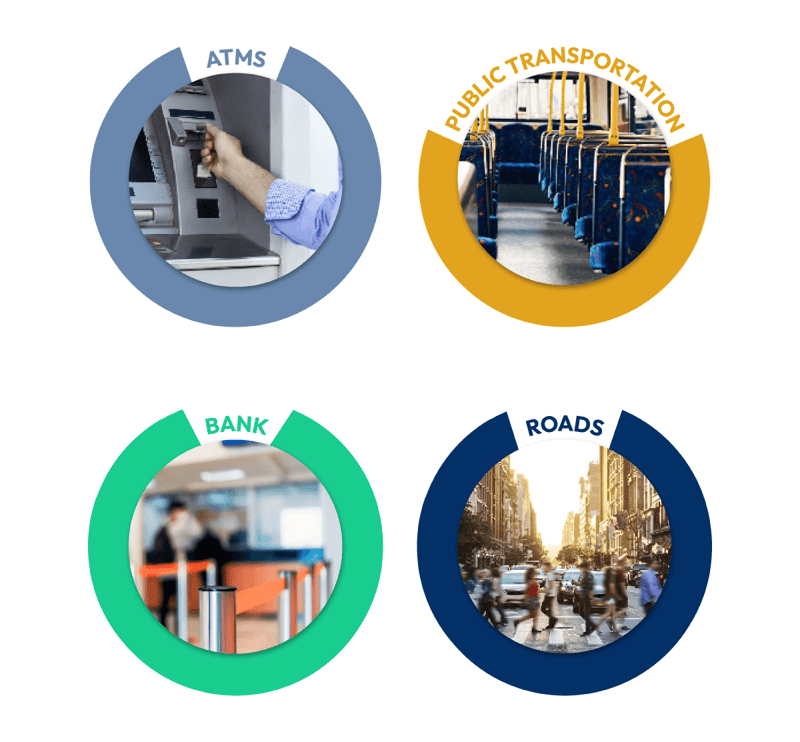 Source: INEGI
The environment of crime, violence, and fear that permeates Mexican society affects the citizens by inducing stress and anxiety which they have no option but to deal with and learn to cope with it, in order to keep living their lives and go about their daily tasks. There is also a shared lack of faith in the authorities to solve these crimes since, most of the time, the police forces lack the resources both to prevent the crimes and to see the investigations through to the end.
MOST

COMMON

CRIMES

IN

MEXICO
The number of crimes in Mexico is alarmingly high. It is estimated that there were 28.1 million crimes perpetrated on a national scale during 2021. Of these, the most common crimes were the following.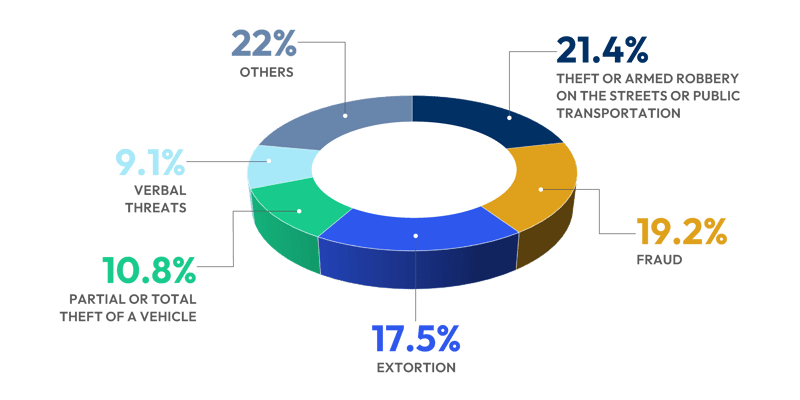 Source: INEGI

The majority of these crimes were perpetrated within the urban environment and, of the total number of crimes, 38.1% were done with some kind of weapon and with the victim being there. In Mexico City, half of the crimes were done this way, while in the State of Mexico the statistic goes up to 54%. It is worth mentioning that this study by the INEGI does not take into account other crimes such as organized crime, drug trafficking, human trafficking, or arms dealing.
In relation to the total crimes on a national scale, the states with more total felonies during 2021 were the following.
STATES WITH

MORE CRIMES IN MEXICO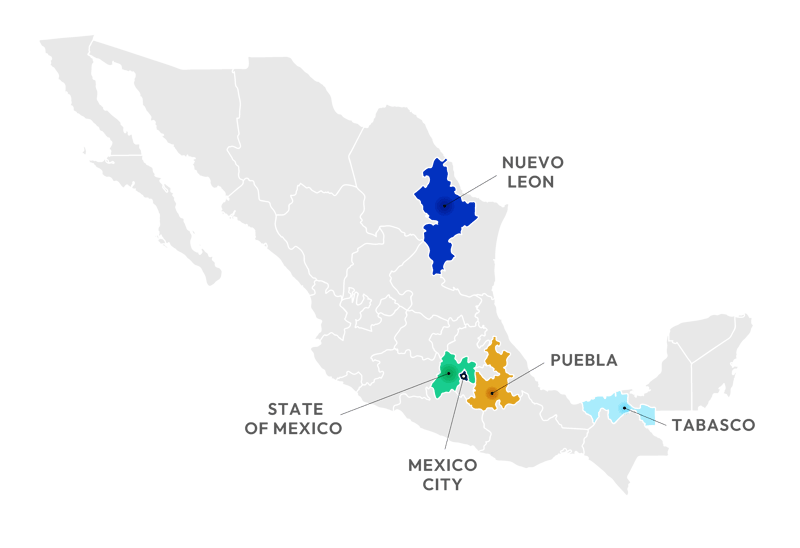 To put things in perspective, the State of Mexico has a figure of 45,500 crimes for every 100,000 inhabitants, while Nuevo Leon's number is 34,000 crimes. The State of Mexico's numbers are worryingly close to the 50% statistic, which would mean that almost 1 of every 2 inhabitants were victims of some kind of crime during 2021.
On the other hand, the state with less crime in that year, reportedly, is Chiapas, with only 16,000 crimes per every 100,000 inhabitants. While this is a comparatively low figure, it is still a significant number of crimes, and should not be dismissed as trivial.
Economically, all these crimes have amounted to the approximate total cost of 278.9 million pesos to the victims, with an average of 7,147 pesos per victim. Though it might seem as a seemingly small quantity for middle and upper-class people, that is close to a whole month of salary for a person of the lower classes.
MOTORCYCLE THEFT
We have previously stated that total or partial theft of vehicles is one of the most common crimes in Mexico. According to the Executive Secretariat of the National Public Security System, in 2021, 10.8% of the total crimes nationwide were of this nature. In that year, the number of stolen vehicles amounted to 141,423 throughout the country, while 2022 saw a small reduction in this quantity, as a total of 138,845 vehicle theft crimes were committed.
However, when talking about motorcycles, the number of thefts was higher in 2022 as it raised to 36,901 from 32,568 in 2021. Of the motorcycle thefts of last year, 9,157 were done with some kind of violence, either at gunpoint, with knives, or with other means that represented a threat to the lives and integrity of the victims.
The rise in the number of stolen motorcycles is strongly tied to the increasing popularity of this two-wheeled motor vehicle, which went from 2.9 million units nationwide in 2015 to almost doubling in 2021 to 5.9 million. Some of the reasons for this increase in numbers are the low cost of the vehicles, the saving costs in gas, and their size, as they can avoid most of the traffic and require smaller parking spots, which turns out to be very convenient for a lot of the population. This, of course, includes criminals.
In fact, there is a strong correlation in several Mexican states between motorcycle theft and the raise in crimes committed using a motorcycle. A comparative study carried out by Algotive in 2022 has concluded that motorcycle theft is one of the main points of entry to other crimes. There is, for example, a correlation between the theft of these vehicles and the raise in homicides committed by motorcycle riders.
The same reasons for the general population to use the two-wheeled vehicle are the ones used by many criminals that operate alone or that belong to organized crime gangs. To these, we should add the speed, the easy means of escape they provide, and the lack of proper laws and regulations for the vehicles. These alleged advantages make motorcycles difficult to track and chase, rendering a lot of the police's efforts useless against them.
Some governments around Mexico have tried to tackle this issue by implementing video surveillance on specific points of interest around the cities; then again, there are only a few humans in charge of surveilling these multitudes of camera feeds. This strategy has not worked as expected. Still, there are a few things that could be done to make these C4 or C5 centers more effective.
THE ROLE OF INTELLIGENT SYSTEMS FOR PUBLIC SAFETY
Technology and its advancements have a significant role in the cities of the future and how they deal with crimes such as motorcycle theft and other offenses that could be derived from that particular issue. For example, in many cities of the world, video surveillance has been implemented to detect crimes. Cities in Mexico such as Mexico City, State of Mexico, Hidalgo, Baja California, or Yucatán have placed cameras on strategic points of the cities to monitor the comings and goings of vehicles and citizens. Mexico City alone has an impressive number of 64,807 cameras throughout the streets.
However, cameras alone are not enough to prevent and detect crimes, as can be inferred by the alarming number of crimes in Mexican cities.
This is in part because the video surveillance system and its methods have not changed in the last 80 years. These systems usually consist of one or several policemen whose work is to observe a great number of screens simultaneously. This means that a single person must deal with a lot of information at the same time and their attention cannot be held indefinitely (studies show that, after 22 minutes of nonstop monitoring, the human eye becomes blind to at least 95% of video information).
Particularly when dealing with motorcycle crimes, regular cameras are not enough because motorcycles move fast amidst other vehicles and are more difficult to spot due to their size and the size of their plates.
This is why the implementation of intelligent systems in these monitoring centers (C5) is essential to improve the quality of life and sense of safety of the citizens.
An Intelligent System is a network of elements that work together to solve complex problems automatically and with effectiveness through the collaboration between people and technologies. Intelligent Systems have cognitive capabilities and are able to adapt to and follow behaviors based on rationality and social norms.
One of the main tools of Intelligent Systems is Artificial Intelligence (AI), which can prove to be very useful when implemented for public safety, particularly in these monitoring stations (C5) that deal with a lot of visual information on a daily basis. AI-based tools such as facial recognition, crowd management, and object detection can be applied to public safety with many perks, such as an increase in productivity, optimization of workflows, prediction of dangerous situations based on previously learned information, learning of similarities and patterns related to crimes, among other advantages.
If you want to know more about Intelligent Systems, read our full article here.
This kind of technology will be a crucial part of public safety in the future as it will solve many of the existing areas of opportunity for improvement in video surveillance. These Intelligent Systems will not replace the human element of monitoring centers. Instead, they will complement them. The collaboration between humans and technology, in which they both are seen as colleagues, will be one of the signs of the future. It is imperative that we start developing that relationship today, especially since it will improve the citizens' quality of life and their sense of safety in the cities and rural areas.
In Mexico, some states like Jalisco, Puebla, and Queretaro are starting to use AI-based video surveillance, showing that technological advancements are not exclusive to nations such as the USA, China, or Japan, which currently lead the industry of video surveillance with AI.
At Algotive, we specialize in solutions that increase the productivity of persons through technology based on Autonomous Artificial Intelligence. One of these, vehicleDRX, works in collaboration with state governments to tackle a lot of the crimes that afflict regular citizens every day.
Click here and learn more about how vehicleDRX increases the productivity of security officers in Real-Time Security Centers.